H. R. Giger
is recognized as one of the world's foremost artists of Fantastic Realism. Born in 1940 to a chemist's family in Chur, Switzerland, he moved in 1962 to Zurich, where he studied architecture and industrial design at the School of Applied Arts. By 1964 he was producing his first artworks, mostly ink drawings and oil paintings, resulting in his first solo exhibition in 1966, followed by the publication and world-wide distribution of his first poster edition in 1969. Shortly after, he discovered the airbrush and, along with it, his own unique freehand painting style, leading to the creation of many of his most well known works, the surrealistic Biomechanical dreamscapes, which formed the cornerstone of his fame. To date, 20 books have been published about Giger's art.
Giger's third and most famous book, Necronomicon, published in 1977, served as the visual inspiration for director Ridley Scott's film Alien, Giger's first film assignment, which earned him the 1980 Oscar for the Best Achievement in Visual Effects for his designs of the film's title character and the stages of its lifecycle, plus the film's the otherworldly environments. Giger's other film works include Poltergeist II, Alien3 and Species.
Giger's album covers for Debbie Harry and the band ELP were voted among the 100 best in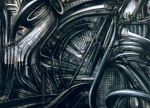 music history in a survey of rock journalists. Throughout his career, Giger also worked in sculpture and, in 1988, created his first total environment, the Tokyo Giger Bar, and in 1992 a second Giger Bar in Chur.
In 1998, The HR Giger Museum was inaugurated in the Château St. Germain, a four-level building complex in the historic medieval walled city of Gruyères, Switzerland. As the permanent home to many of the artist's most prominent works, the Giger Museum houses the largest collection of the artist's paintings, sculptures, furniture and film designs, dating from the early 1960's until the present day. Displayed on the museum's top floor is Giger's own private art collection, as well as the HR Giger Museum Gallery where, on a rotating basis, Giger curates one-man shows for other artists.
Copyright © 2007 hrgigermuseum.com
Related links:
GIGER MUSEUM